As a kid, I remember never being too overly excited about Thanksgiving. It's the one that comes "after the holiday with candy and before the holiday with presents" for kids. Poor Turkey Day. It doesn't have a chance with little ones.
Unless….you have some cute and clever ideas like these.
source
If you have a bunch of kids at your Thanksgiving festivities, it's a great idea to have a separate table for them. It lets you fancy up the adult table, but it also gives them a personalized space of their own to celebrate.
source
The table can be garnished with specialty papers and cadies or it can be as simple as some altered paper cups. The great thing about kids? They'd love any of these ideas. Heck, I'd love any of these ideas.
source
The busiest part of the day can be when you're trying to finalize the turkey and that stuffing, so why not make the table decorations double as a craft that kids can work on? Of course, figuring out who's gonna work on that craft with them is a whole 'nother family feud. Choose the person with the least seniority.
source
source
Perhaps you're lucky enough to have Thanksgiving outside? On hay bails. And tree stumps. Well, here's a pretty darn cute idea for ya.
source
And of course Pottery Barn. It's a no-brainer. If you'd like to make them yourself, I found a really good tutorial here.
source
Amanda at Shindig Parties to Go (one of my favorite websites—she's brilliant) has a bunch of printables available for just these occasions. Right now, if you like Shindig on Facebook you can get them for free.
I love this idea for two possibilities. A fantastic centerpiece on the kids' table or for some fun/cool (depending on the age of the kid) treats for after dinner! When all the "old people" are gorging themselves on mincemeat pie, they get to have something a little more appealing.
source
And finally…I love this. Here's why.
It's easy. It's disposable. It's not fussy.
If you're hosting a Thanksgiving dinner for 25+ people, that's just the combination you're looking for.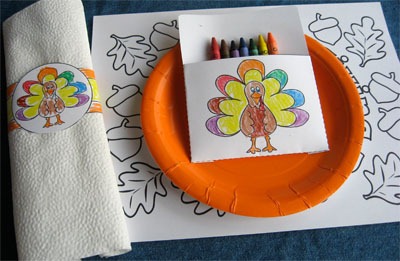 Well, there you have it! A bunch of sassy, fun, and kid-friendly ideas for Thanksgiving–otherwise known as the day all the ads come out for Black Friday. Unless you're a freak and you go to websites that post them early. Not that you are. Just sayin' I've heard some people do that.