At the risk of sounding like an infomercial over here, I had to share about my fun (totally worth it) toy. I have what my husband calls an obsession with reading reviews of products. Believe me, he loves that I do it. He just doesn't get it.
He also doesn't get my obsession with cleaning our floors. It's as if it's my life's goal to find the perfect cleaning system for what this guy leaves behind.
Don't believe me? Let me break down my cleaning tool "fails" for you. This one? A hot mess. Don't recommend.
This baby? Fine if you're cleaning a sprinkle of dust that fell on your floor. Three minutes ago.
Next up? The sprayer broke. I used it for the mop head for a while, but it just wasn't cutting it once we moved into the bigger house.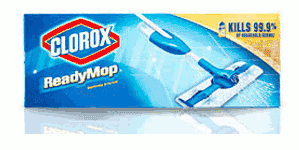 This method? It works. Key word: works. It's tough stuff and not something I wanted to do on a regular basis.
And finally…Bona. I love it. Really. It works very very well. It takes some muscle for the mop, however, and I always felt like I was just pushing dirt around. Still recommend it, though. Highly.
Well, Nemesis. I think you have met your match. After extensive reviews and dozens of comparisons, I finally decided to get a steam mop. Scratch that. THEE steam mop.
I could go on and on about why it's better than other steam mops, but just believe that I did my homework on it. Plus, the steps are easy peasy.
Fill the component (I sound so official) with water.

Place the cloth mop under the two side clips. (Oops. Didn't take a picture.)

Turn it on and wait about two minutes for it to warm up.

Slide the mop across your floor. Like BUTTAH. Sooo simple.
Some reviewers said that it leaves too much water behind for the first few uses. This was my third use (yes, I'm a little obsessed), and I could already tell it wasn't dispersing as much. As you can see, it's already drying up after doing this little section.
And the final result? Oh-to the-yeah! Unfortunately, it doesn't get rid of Nemesis scratches on the floor, but it disintegrated every last drool drop on my floor. SCORE!
I'm so thrilled with it, I just had to shout it from the rooftops. Or….
from the mountain tops?
Aaaaaand the disclaimer. I didn't get any compensation for this post. Nope. Just like it. Also, my hardwood floors are sealed—they'll be fine (thank you for your concern). Lastly, it doesn't clean the grout of ceramic tile, but I have a deep-cleaning system I like to use for that anyway. The end.