This is a Sponsored post written by me on behalf of dio. All opinions are 100% mine.
If you're anything like me, you need visuals. Sometimes it can be an absolute curse, but most often it's a beautiful thing. The problem is trying to organize all those visuals. dio recently reached out to me to try their new online tool to use that will organize those visuals. I'm all about finding new ways to get my design thoughts together, so I was excited to try it.
What I like about it is that it's not just a random folder of pictures. I had some fun playing around with it, and I found that I could choose one space to write about. Because the weather is starting to break around here, we're really brainstorming about our backyard. I used dio to not only show me the pictures of what I like, but I could comment on and coordinate the pictures to plan it out better.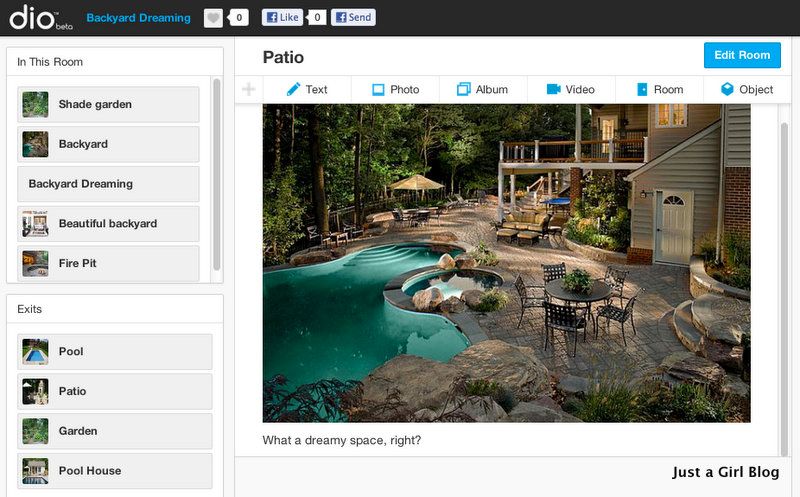 Basically, I love it when I find a new tool to help me with my illness….errr…need for visuals. I have a dream trip that I'd like to go on and I was able to upload favorite places to stay, eat, etc. That's the beauty of this place. I used it for a number of items!
Admittedly, I'm still pretty new at it, but I'm having fun figuring it out. There are some details that are going to be awesome (communites, sharing rooms, etc.)! I'm signed up at jagirl, so feel free to follow along! Keep in mind–I'm still putting things together.
Wanna hear something cool? Dio is going to give away a $100 Amazon Giftcard to a lucky Dio signer-upper. You can Like dio on Facebook to get some inspiration/directions, and you can check Contest Rules for more specifics.
It's a free sign-up, and I really enjoy finding new avenues for my design needs. Doesn't hurt to try, and you could get $100 Amazon card! The winner must be an active Dio user, so you'll need to respond with the e-mail you signed up with. Again these Contest Rules will help you.